9 FREE Data Extraction Tools You Cannot Miss in 2020
There are countless data extraction tools available on the market. Some of them work great for programmers while some suit non-coders well. In this article, I would like to introduce 9 extremely cost-effective data extraction tools that are built for non-coders.
Table of Contents
· Octoparse
· Dexi.io
· Web Scraper
· Data Miner
· Parsehub
· Scraper
· Webhose.io
· WebHarvy
· Outwit hub
Octoparse
If anyone is talking about data extraction tools, he/she will inevitably mention Octoparse. As a powerful tool with many advanced features, it stands out as the best in the data extraction software industry.
Octoparse simulates human interaction with the web page. After the target website is loaded in the built-in browser, users can point and click on the information to build the workflow of a scraper. For instance, a simple workflow may look like this: go to a web page – click on an element – Octoparse automatically selects all similar elements – extract the data.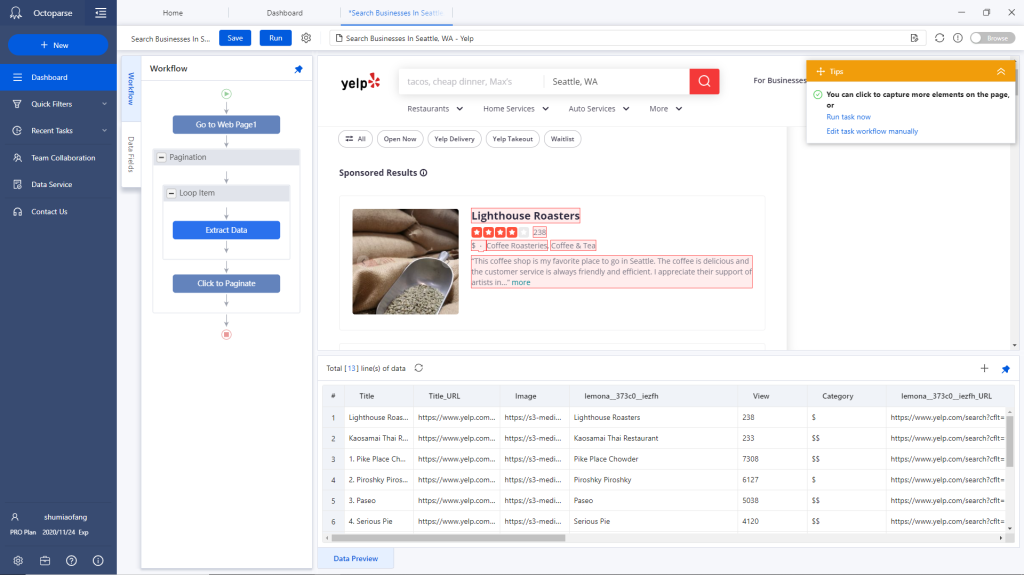 It works for both static and dynamic websites, including web pages loaded with AJAX, infinite scrolling, or "load more" button. Other advanced features include scraping behind a login, entering a search value, scraping tables, etc.
The extraction can run on a local computer or in the cloud. Users can store a large amount of data in the cloud platform provided by Octoparse and export it into data formats like Excel, JSON, CSV, or to their own database via an API.
One unique feature of Octoparse is that they provide preformatted web crawlers called web scraping templates. They are all ready-to-use data extraction tools to pull data from popular websites.
Dexi.io
Dexi.io was previously named Cloud Scrape. It is a cloud-based web application (cannot be installed on your local machine.)
There are 3 types of robots in Dexi.io – Extractors, Crawler, and Pipes. Dexi.io is intended for people with basic programming skills. If you are a non-coder, it may take you a while to learn how to build a scraping bot. But once you've mastered how to use it, it's awesome at extracting details from websites. You may check out their YouTube channel for a quick glance at its interface and features.
Web Scraper
As the best Chrome extension data extraction tool, it helps you build a sitemap to determine how a web site should be traversed and what elements should be extracted. You can further export data into CSV, XLSX and JSON formats.
Even though it's a chrome extension, it has a cloud scraper version that extracts data at any time.
There's a bit of a learning curve at the beginning, even if you are familiar with HTML, CSS, and Xpath. But once you get the hang of it, it is a powerful tool to get data from Chrome pages.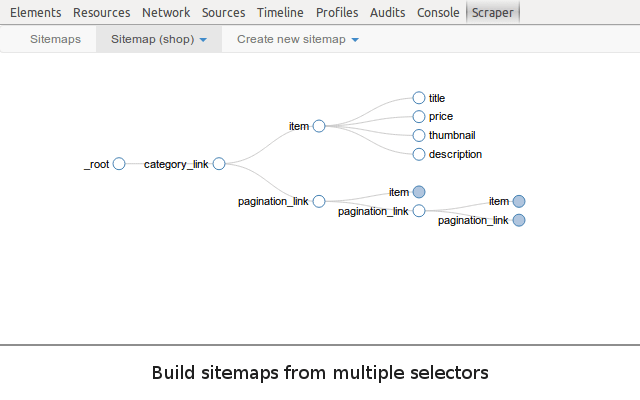 Data Miner
Based on Toronto, Canada, Parsehub was founded in 2013. It is a great user-friendly web scraper that extracts data from websites with AJAX, JavaScript, cookies, etc. Parsehub supports multiple operating systems: Windows, macOS, and Linux.
You can find tutorials on their sites to get you onboard quickly, and the learning process is smooth and easy. Its free version allows users to build 5 projects at maximum and the data extracted can only be retained for 2 weeks. If you extract a small volume of data, the free version would be the best option for you.
Scraper is a very simple to use (but with limited functions) chrome extension scraping tool. After clicking and saving the data from an HTML table, it can export the result into Google docs. If you are an intermediate web scraping user with advanced XPath knowledge, this would be a great option for you.
Webhose.io is powerful at getting news data feeds for news aggregators and social media monitoring sites like Hootsuite, Kantar Media, Mention, etc. It provides API for news, blogs, online discussions & reviews, and even the dark web.
Webhose.io supports scraping data in multiple languages and export it into XML, JSON and RSS formats. Its free version allows users to make 1k HTTP requests/month to meet the web scraping needs.
WebHarvy allows you to scrape websites via proxy servers. By masking your real IP address, you'll be able to crawl the web pages anonymously. This helps reduce the chances of getting blacklisted or blocked.
outwit
Outwit hub started as a Firefox plugin, and now it can also be used as a data extraction software application that works in Windows, macOS and Linux. It's great at locating and pulling images from all over the web, which allows users to work efficiently with photos and images.


Reference: Source link