31 Best Gag Gifts on Amazon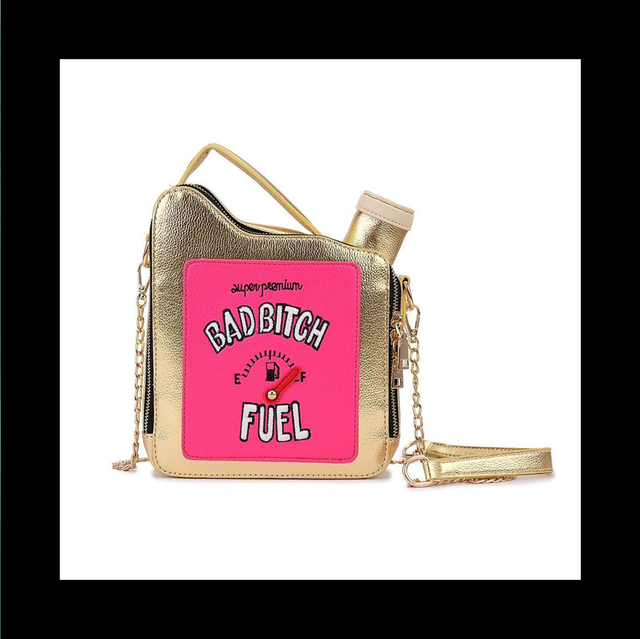 Courtesy
The only thing worse than being hungover on Christmas: buying prezzies for a dozen different gift exchanges. Finding cheap gifts that don't totally suck is tougher than you'd think, especially if you don't know who your recipient is going to be. However! Funny presents are always a win, and if you're looking for inexpensive gag gift ideas, then you've come to the right place. While you'll find plenty of useless, bizarro crap on the internet (see: this toilet golf game), the best gag gifts on Amazon are the ones that your lucky recipient will actually use, 'cause chances are they have enough junk in their life already.
White Elephant, Yankee Swap Dirty Santa…whatever TF you choose to call it, the premise is basically the same: You set a budget, you buy a present, and you pray that your selection isn't the reject gift that literally no one wants. The best way to avoid that fate? Get something funny. But while a reindeer mankini or Santa hat pasties might make your friends lol, they're probs not the best gag gift ideas for your office Christmas party. Just sayin'.
Want Amazon gifts that are cheap, funny, and not reliant on potty humor? Scroll ahead for the best gift ideas under $50 that'll help you win your White Elephant exchange this year. And because they're all from Amazon, you can get 'em shipped in time even if you wait until the last minute (fellow procrastinators, WYA?).
Advertisement – Continue Reading Below
1
this truthful mug
I Hate People Retro Coffee Mug
For your fave introvert: this legit cute mug that says it all (and that, as a bonus, also happens to be dishwasher and microwave safe). 
2
this important calendar
Tricks to Appear Smart in Meetings 2022 Day-to-Day Calendar
Created by TikTok star Sarah Cooper, this essential day-to-day calendar will tell 'em all the hacks and buzzwords they need in order to seem like they know WTF is going on. 
3
these adorbs socks
Sushi Socks Box
Tired: plain ol' socks. Wired: socks packaged to look like precious lil sushi rolls. 
4
this raunchy cookbook
Fifty Shades of Chicken: A Parody in a Cookbook
From dripping thighs to mustard-spanked chicken, this v sexy cookbook comes packed with 50 salacious chicken dish recipes that'll help your recipient ~dominate~ the kitchen. 
5
this old school phone case
Retro iPhone Cover
Available in pink or black, this genius cover will turn their phone into the retro cell of their dreams, and you can get it to fit any iPhone model. 
6
these naughty jars
Bathroom Glass Containers
If these cotton ball and Q-tip containers don't make your recipient at least smirk, then IDK what to tell ya. 
7
this cheeky cushion
Corgi Butt Throw Pillow
No one will be able to resist this plush lil throw pillow, which is made with cotton and shaped like a precious corgi derrière. 
8
these funny magnets
Cat Butt Magnets
Speaking of animal butts! Cat lovers will love sticking important papers to their fridge with this set of six magnetic kitty rear ends. 
9
this witty candle
Don't Do Meth in Our Bathroom Candle
Help someone make a (very) reasonable request of their guests with this lol-worthy soy wax candle, which smells like a delightfully fruity mix of lemon, orange, and pineapple. 
10
this gigantic fluffy sweatshirt
Oversized Wearable Blanket Hoodie
A fluffy sherpa blanket that you can wear basically everywhere? I'm sold. 
11
this coffee table book
This Book Is Literally Just Pictures of Animals Silently Judging You
This book filled with pictures of animals delivering shade is truly a gift that keeps on giving.  
12
this motion activated toilet light
Motion Sensor LED Toilet Night Light
K, I know I said no potty humor, but this clip-on toilet night light (which will make the inside of their bowl glow in a variety of colors) is too good not to include. 
13
this light-up sweater
Too Lit to Quit Ugly Christmas Sweater
Find me someone who wouldn't want this perfect ugly Christmas sweater. I dare you. 
14
this windproof umbrella
Raining Men Clear Bubble Dome Umbrella
I know the Weather Girls said to leave your umbrellas at home, but they'll wanna take this cute bubble umbrella everywhere with them.
15
these cartoon face masks
Pretty Animalz Character Sheet Masks
These adorable as heck essential oil sheet masks will help 'em get in touch with their inner animal. 
16
this headlight hat
LED Beanie
A hat with a built-in headlamp is funny in concept, but this beanie also happens to be super useful (as well as one of Oprah's Favorite Things of 2021, jsyk). 
17
these dual-purpose slippers
Bunny Mop Slippers
These slippers aren't just super cute—they also have chenille microfiber material on the soles to help your recipient clean up as they shuffle around the house. 
18
this bad bitch tote bag
Fuel Bottle Handbag
The bad bitch in your life will feel fly as hell toting around this gasoline bottle-shaped leather bag, which comes in a bunch of different color options. 
19
these beauty sponges
Blending Eggs
These egg-shaped beauty sponges are legit awesome, and the packaging will def trick someone into thinking they're receiving half-a-dozen eggs. 
20
these personalized socks
Custom Face Socks
Whether you get 'em printed with their face, your face, their S.O.'s face, or their pet's face, these custom socks are guaranteed to make your giftee chuckle. 
21
this nifty wine holder
Portable Suction Cupholder
For that person who loves to sip in the bathroom, this portable suction cup caddy is a must-have. 
22
this wine lover's tote
Wine Purse
Slapping the bag gets a whooole new meaning with this insulated wine bag, which can hold up to two bottles of vino. 
23
this necessary wine goblet
Ultimate Wine Bottle Glass
Anyone who loves a heavy pour will appreciate this giant ass wine glass, which holds an entire bottle without judgment. (Last wine-centric gift, promise.)
24
this essential party tee
Divorce Party T-Shirt
IMHO, this shirt makes an epic gift no matter their current relationship status.  
25
this bluetooth banana
Banana Phone Bluetooth Handset
This hilarious banana handset pairs with your phone via Bluetooth, letting you take calls, make calls, and play music, all with a banana in hand—plus, proceeds from every sale go towards gorilla conservation efforts. Aww. 
26
this wearable mermaid tail
Mermaid Tail Sherpa Blanket
Help the aspiring mermaid in your life achieve their dreams with this fuzzy sherpa-lined mermaid tail sleeping bag, which even comes with a detachable shoulder strap. 
27
this cozy beer holder
Knit Beer Mitt
Professional tailgaters needed this beer-holding knit glove, like, yesterday. 
28
this hilarious game
Black Card Revoked
Anyone who knows and loves Black American pop culture will have a blast playing this game (and there a tonssss of expansion packs you can add on as well). 
29
this crass organizer
Sh*t I Can't Remember Notebook
That person who never has their sh*t together legitimately needs this notebook for scribbling stuff down. 
30
this not-so-sexy nightshirt
Lingerie Nightgown
FYI, this oversized tee is waaaay cozier than actual negligee (and probably much more fun to open in front of other people). 
31
this kitty-inspired tarot deck
Cat Tarot: 78 Cards and Guidebook
Ppl who love tarot cards 🤝 Ppl who love cats
This content is created and maintained by a third party, and imported onto this page to help users provide their email addresses. You may be able to find more information about this and similar content at piano.io
Advertisement – Continue Reading Below


Reference: Source link