22 Swimsuit Types – Bathing Suit Styles You Need to Know About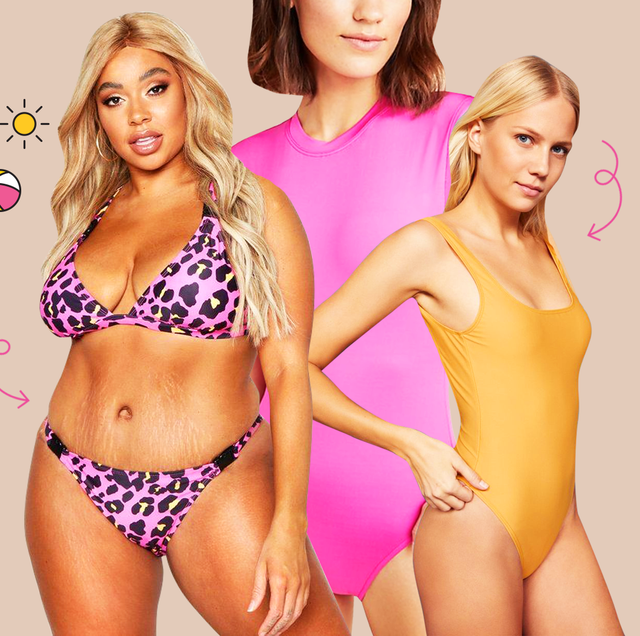 Courtesy
Swimsuit shopping is tricky as hell. Online shopping has the potential risk-factor of buying something sketchy, and it's equally as frustrating to try on bikinis in an unflattering fitting-room mirror. On top of all of that, you've got a bajillion different types of swimsuits to choose from, complicating things further.
Thankfully, picking out the right bathing suit is about to get easier. First, know that there is no such thing as one swimsuit for one specific body type. Anyone who tells you so is absolutely wrong. If it makes you feel like that bitch, it's the right one for you. OK? So, take a deep breath in and let it out. Feel that swimsuit-season stress leaving your body? Good.
Now time to do a little fashion homework. You won't be confused or intimidated by all the different styles and categories out there after checking out this list of all the types, below. It's got all the bikinis and one-pieces you may encounter on your next bathing suit-shopping adventure.
Advertisement – Continue Reading Below
1
Triangle Top
Candy Animal Print Bikini
This term is pretty straight forward, but in case you're still not clear—a bikini top with triangles covering each of your boobs is a triangle top! 
2
One-Shoulder Top
Mesh Bikini Top
LA BLANCA
nordstrom.com
$79.00
This kind of suit is asymmetrical, meaning there's just one strap going over one shoulder, instead of both.
3
Underwire Top
Geneva Mesh Top
Acacia Swimwear
revolve.com
$115.00
A bikini with underwire is one that kinda looks like a bra and offers a bit more lift and support than one without. They can come padded or unpadded, depending on the coverage you want.
4
Sports-Bra Top
Wild at Heart Top
SAINT SOMEBODY
coedition.com
$99.00
For added support, a sports-bra top is a good bet. And this black one goes with absolutely everything.
5
Bandeau Top
Tori Bandeau Bikini Top
Montce
shopbop.com
$85.40
A bandeau is a strapless top that goes straight across. This one has a circular insert that's super cute!
6
Tie-Front Top
Textured Tie-Front Top
Instead of tying your bikini behind your neck and at your back, these ones do it in the front for an easy on-and-off situation!
7
Crop-Top Bikini
Knotted-Front Swim Crop Top
Swimsuits that look like actual crop-tops are perfect for when you want to do a quick change and grab dinner after a day in the water.
8
Longline Top
Strappy Bralette Bikini
L.A. Hearts
pacsun.com
$26.95
This cut of suit has a crop-top like feel too, hitting a little lower on the rib cage than most other bikinis.
9
Monokini
Classic Monokini Swimsuit
Rudi Gernreich
net-a-porter.com
$195.00
Why not both? Monokinis are a hybrid of one- and two-pieces. They generally have cool cutouts and show more skin than a traditional one-piece. 
10
One-piece
Terracotta One-Piece
The Reformation
thereformation.com
$98.00
Basically, a suit that covers your top and bottom all in one.
11
Sports Suit
Core Solid Swimsuit
Nike
dickssportinggoods.com
$49.99
If you're trying to just get your laps in, this is the style you need. No frills, no fuss, just the ability to stay in place and be hydrodynamic.
12
Rash Guard
Basic Skins Long-Sleeve Crew
O'Neill
swimoutlet.com
$19.94
Rash guards can come in long-sleeve styles or short-sleeve styles and are typically used in sports, like surfing. Nowadays, many people use them instead of or over their regular swim tops to help prevent harmful UV ray damage too. 
Note: If that's your plan, just make sure the style is tightly woven. If you spread it and can see light through it, it's possible for the sun to still reach your skin underneath. Many of these come with certified sun-protection ratings, so look out for those!
13
Wetsuit
Satin Long-Sleeve Front-Zip Shorty
This is a silhouette you'd expect to see on a surfer, scuba diver, snorkler, and water-skiers/wakeboarders/what-have-you water-sporty person. The all-in-one piece (usually designed with a mock-neck) can sometimes also have attached pants depending on how cold of a swim the wearer's expecting. 
14
High-Neck Suit
Active One-Piece Swimsuit
Seafolly Anthropologie
anthropologie.com
$128.00
These suits don't have any plunge. Take a look at this crew-neck style here to see what I mean.
15
Tie-Side Bottoms
Pointelle Rib Lily Bottoms Classic
L*Space
zappos.com
$79.00
You guessed it—these have strings that tie at the side, which typically function to adjust the size and keep things in place. But they can also just be fashion details that don't serve any purpose other than looking good!
16
Ruched Bottoms
Alma One-Piece Swimsuit
Capittana
shopbop.com
$179.00
This little detail in the center of many swimsuit bottoms helps create a bubble-butt illusion and can be found in all types of two-pieces or one-pieces, from thongs to full coverage.
17
Scoop Bottoms
Frankies Bikinis Kelly Bottom in Bubblegum
L*Space
revolve.com
$84.00
Bottoms with this cut are typically curved hipster styles that are lower in the center and higher above the legs. The scoop can be more subtle, like the one here, or more extreme, like you'd expect from '90s-inspired looks. 
18
Cheeky Bottoms
Jenna Bikini Bottom
Frankies Bikinis
nordstrom.com
$85.00
This one kinda has that wedgie look—without the annoying feeling—for those who want to show some extra cheek.
19
High-Waisted Bottoms
Ribbed Cheeky Bottom
Xhilaration
target.com
$16.99
Generally, these hit right at, above, or just below the bellybutton.
20
Full-Coverage Bottoms
Miraclesuit Bikini Bottoms
Miraclesuit
nordstrom.com
$86.00
If modesty is your priority in a two-piece, this is the style of bottoms you'll want to get. Like the name implies, not a lot of extra skin is shown.
21
High-Cut Bottoms
Crinkle Frill Bottom
Missguided
missguided.com
$25.00
This '80s- and '90s style typically sits above the hip bone and makes your legs look really long too. 
22
Boy-Short Bottoms
Mesh Rhinestone Swimwear
Summersum
amazon.com
$10.98
Basically, these look like short shorts that hit just below the curve of one's butt cheeks. They're great for sporty activities, like playing beach volleyball! 
23
Thong Bottoms
Solid Waistband Thong
SHEKINI
amazon.com
$14.95
If showing off that 'donk is a big priority for you, you'll want to wear this style.
Advertisement – Continue Reading Below


Reference: Source link